Jabber Request

N.B. Please see this news section for our current service status.
Requests for a new Jabber account for NHS Scotland staff can be submitted by completing the Jabber Request Form and emailing it to vc.support@nhs.net.
Please note Jabber software will reach end of support at the end of March 2018 but we will have alternatives available, with a number of interesting new features.
As part of the process a nominated contact at each board will be informed of your request and will need to approve it before the account is created.*
Once approval has been granted the National Video Conference Service Desk will create a new account and send you the account details.
Whilst your account request is being processed you should log a call with your local eHealth team for the Cisco Jabber software to be installed along with the purchase of any peripherals (webcam, speakers or headset) that you may require.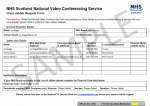 Should you be unsure of what details we require we've created an example of a completed Jabber Request Form to guide you. This form shows examples of the detail we require in the various sections.
There are a selection of user guides on Jabber for desktop/laptop or iPad.
(NHS Dumfries and Galloway have requested their staff contact their IT service desk in the first instance. Their service desk will make the request on their users' behalf.)